Decreased consumption and increased torque and power
Increase your engine power and reduce consumption with the TheItalianBox APP additional module.
This additional control unit optimizes fuel atomization, producing a considerable saving of up to 20% on fuel.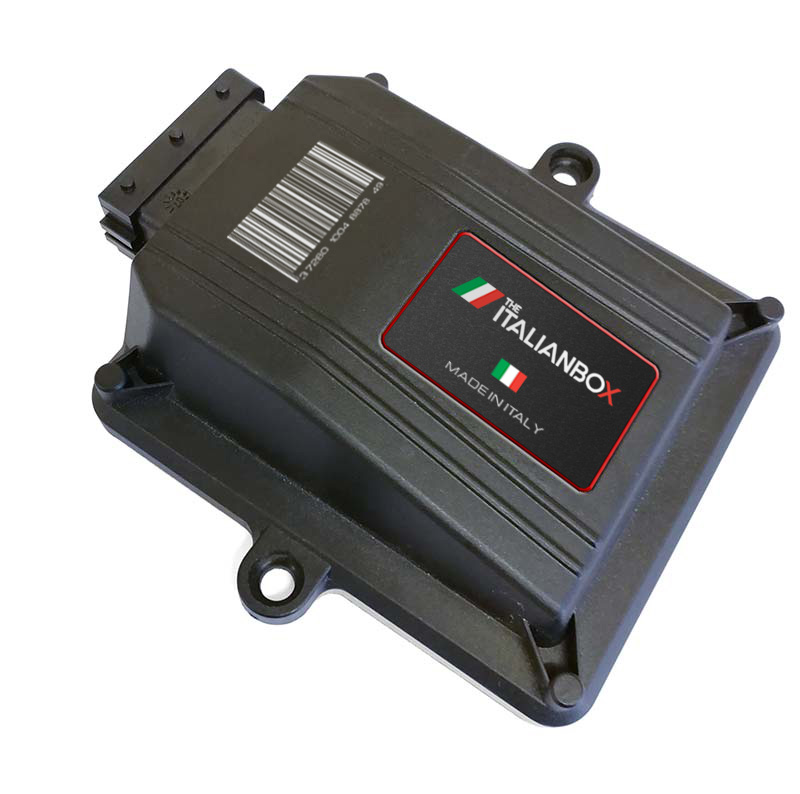 UP TO + 50% POWER
UP TO + 50% PAIR
UP TO 25% CONSUMPTION
DATA VERIFIED AT BENCH
297 EURO SUPER PROMO
OVER 120000 FEEDBACK REPLIES
There are two main causes of fuel consumption: engine displacement and engine rpm. The greater torque delivered with the TIB APP provides the engine with excellent gear elasticity: you will be able to drive with one or two more ratios than you would with the original configuration.
Efficient fuel consumption is possible through travelling at an average lower speed, in medium-high gears. TheItalianBox APP additional module allows you to lower the number of engine revs by using one or two additional ratios and to significantly reduce fuel consumption.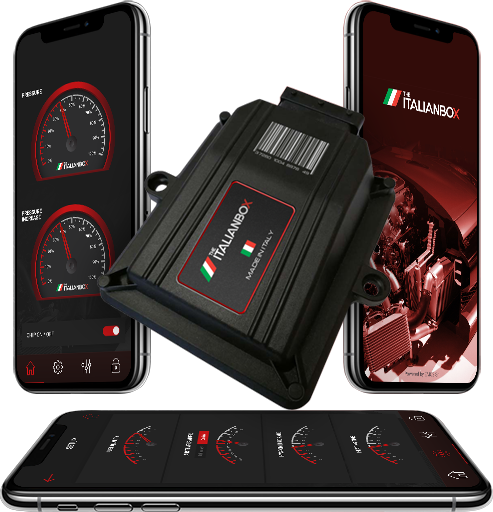 149 299
All the quality of Italian engineering at the service of the automotive sector at a unique price. The TIB APP additional control unit, the most innovative on the market.
Configure
SAVINGS AND
REDUCED CONSUMPTION
Respecting the environment
Decreased fuel consumption means lower CO2 emissions. TIB APP ensures fuel savings of up to 25% and a significant reduction in emissions. In this way, you will be able to drive a car with less environmental impact and contribute daily to the containment of the harmful effects caused by vehicles for every kilometre travelled.
Financial savings
With The Italian Box APP additional control unit you can adjust the engine power from inside the car at any time. Indeed, our additional module allows you to control the power supplied, increasing or decreasing it within a range provided.
Assigned ECO Driving Map
Use the ECO driving map to drive as you want to, without compromise. Just one click to reduce fuel consumption, whether you are driving in the city or on the motorway at a constant speed. This setting guarantees maximum savings, enabling you to recover your investment in The Italian Box APP within a short time.
Greater  Efficiency
The TIB APP microprocessor is able to intercept and optimize various parameters, increasing the spread of fuel atomization in the combustion chamber. In this way the same quantity of fuel is injected, but in finer droplets: the diesel can burn completely and the number of particles of unburned fuel is reduced.
Greater elasticity
The greater torque and power guaranteed by the TIB APP increase engine elasticity. With our additional control unit you can always use one or even two extra ratios, thanks to the extraordinary elasticity acquired. This ensures less use of the gearbox and therefore greater comfort at the wheel and a more pleasant drive.
Suggestions
You can further optimize fuel reduction by not overloading the car and by increasing resistance to rolling. In the vicinity of a red traffic light or in a queue, remember to decelerate in time, maintaing the ratio entered. You can also remove the luggage carriers when they are not needed: in this way you increase the aerodynamic drag of your vehicle.
UP TO + 50% PAIR
UP TO + 50% POWER
UP TO 25% CONSUMPTION
DATA VERIFIED AT BENCH
SPENDING
on TIB
WILL CAUSE YOU TO EARN THROUGH SAVING ON FUEL!
SAME POWER SAVING
ON ENGINE REVOLUTIONS
Find out how much you can save
With Motor TIB you will enjoy considerable savings on engine revs, without having to sacrifice car power in any way.
Configure
Comments are closed.